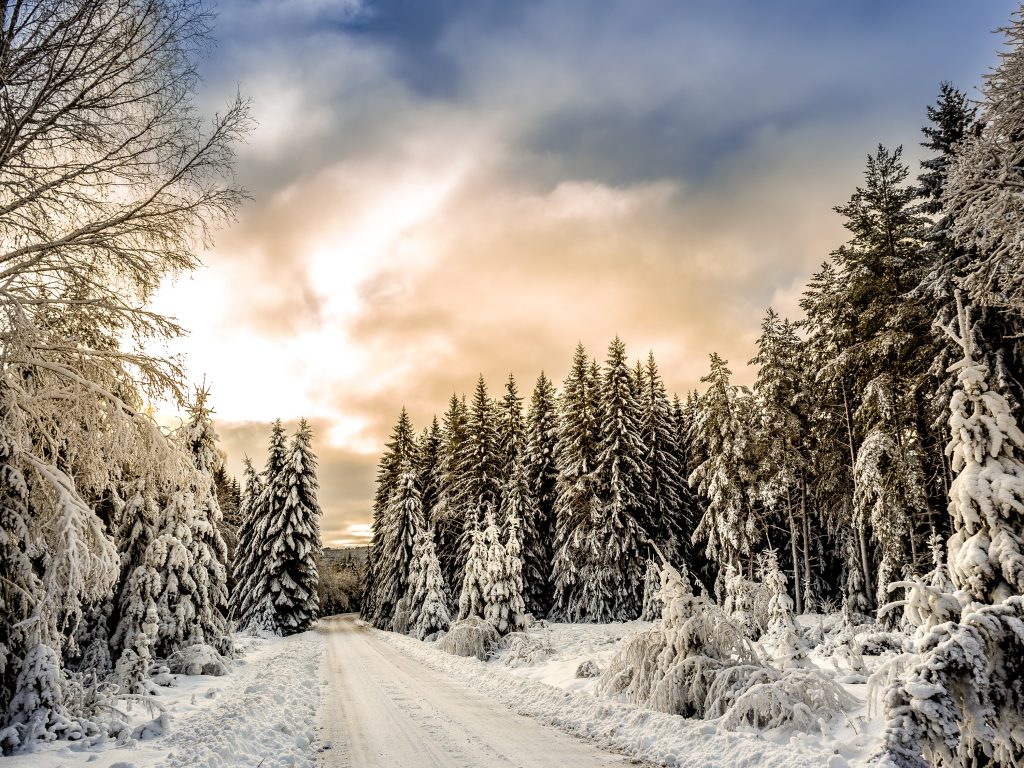 Date Published: 24th November 2022
A visit to Sweden
Alexander has just returned from a visit to Sweden. A series of poems he wrote on the subject of trees has been used by a group of young composers as the basis for various compositions. The composers were all senior students of the Lilla Academien, Sweden's most distinguished school for musically talented young people. Their works were beautifully performed in a most moving concert at the Academy (in the Queen Silvia Concert Hall) as part of their Music of the Future Festival, an annual event. The oratorio was called 'A Celebration of Trees'.
Working with Students
As part of his visit, he went to speak to the younger children. And there he received the most wonderful welcome. This short film shows that, and the photograph below shows him with some of the composers.
Alexander found the entire visit to Sweden very moving and can't thank the young people enough for the creative work that they have undertaken.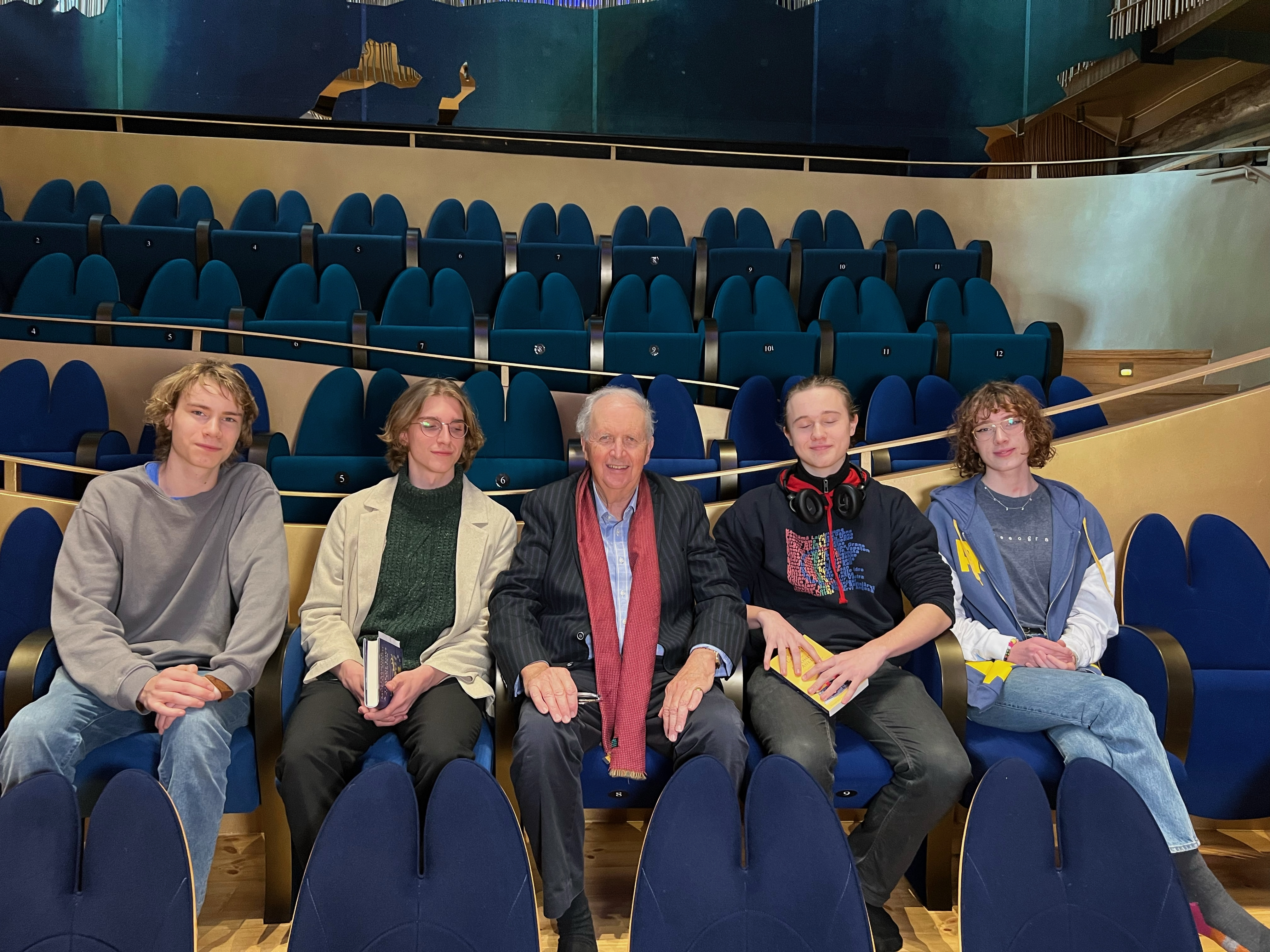 A poem from the suite written by Alexander McCall Smith for this project:
1. When the trees disappeared
 
My dears, a moment: would you listen please
To a story that needs telling and should be heard
About the world around us, and its trees;
Of this story, there's not a single word
That has been made up – there are very few
Things a tree will say that are not true.
 
There was a time when people thought it right
To use the world and pay no others heed:
They built great cities, they unleashed their might
To clothe the world in concrete; they decreed
Their schemes alone had any worth
And quite forget, it must be said, about the earth.
 
Until they woke one day and they found out
Their world had changed, what had been fair
And wonderful had faded, all about
What had been green and living was no longer there:
Engines and machines had been employed,
The trees were gone – they'd been destroyed.
 
2. The children go down to the woods
 
Dear children, look about you now and see
The morning light upon the trees;
And watch the way in which the sun
Illuminates, as day's begun;
The world is such a place that we
May marvel at and wander free;
Take my hand and walk behind
And in this wood I'm sure we'll find
The miracle of twig and bough,
Of leaf and branch; listen now
The wood is breathing, hear its heart
Beat strong with sap; we'll start
Our journey now, the trees our guides,
Their presence close on every side.
 
 
3. The children meet a wood-carver
 
We meet a man we've never seen
Although in woods we've often been,
His art an old one, his ancient knife
He's kept sharpened all his life:
As a boy he carved from pliant wood
The things a boy will need, or should:
A trap to catch a bird perhaps,
A spinning top, a case for maps,
A monkey dangling on a rope.
A little dish for bars of soap;
Anything we want or need
He'll carve from wood, he'll deck with reed;
Of all the things of which he spoke
The mightiest was the constant oak;
As hard as it was, it still permitted
The gentle shaving he committed;
Reminding those who work in wood
Their work is precious, their work is good.
 
 
4. Birds in trees
 
And here, in the trees,
Are the nests of birds
Who inhabit trees; for whom
Branches are home,
And collection of twigs
Their chosen and carefully-built
Address, their post code, their place.
 
Looking at a tree, we may see
Only its boughs, its trunk,
The way its limbs individually
Spread out, as if wanting
To be something different,
Detached from the truck
That bore them; we notice
The shape of a tree against the sky,
May call it by a Latin name,
May refer to it as being
Of this or that shape, conical
As firs may be, flat-topped as acacia;
But to birds a tree
Is an invitation to inhabit,
An offer of safe haven,
An individual home;
That is what a tree may be
To a bird flying past it.
 
In their individual homes each bird
May express what, to its species,
Is important – as we do in the siting
And planning of human habitation;
May choose, then, to be beside a river
Over the waters of which it swoops;
May look for a tree that offers
A commanding view
Of whatever approaches;
A tree to a bird is a nursery,
A place for the children to be safe
And live the adventure of childhood,
Until it becomes, at last, a launching tower
For flights of adventure and discovery,
And is thereafter just the old home,
The place from which the world below
Was first viewed, though still
It is a place of sanctuary and safety,
A place of society or concealment
Depending on the needs of the time;
Trees, though, were made, as is obvious to birds,
For the pleasure of birds, and for their private moments.
 
5. Fruit trees
 
Sweet the fruit of orchard trees,
The eating apple and the pear; bitter, though,
The unripe greengage and the crab apple,
Or the rowan berry, that hangs
In late summer, in red clusters,
Just beyond reach, but lovely
When autumn yellow invites
A complementary red, like dabs of paint.
 
The apple rewards the one
Who plucks it, extracts the core,
And makes slices of its orb;
The fig tempts us with its softness,
And its seeds that seem warm and soft,
And delicious to tongue and palate;
Most trees are prepared to share
Their fruit with others; in return
For the propagation of seeds;
In the belly of the great elephant
The palm fruit begins
Its journey of renewal; my fruit
The tree proclaims, will delight you;
All I ask is that you allow a seed
To fall from your plate, just that.
The author is also working on a collaboration with students from St Mary's Music School in Edinburgh, Scotland.