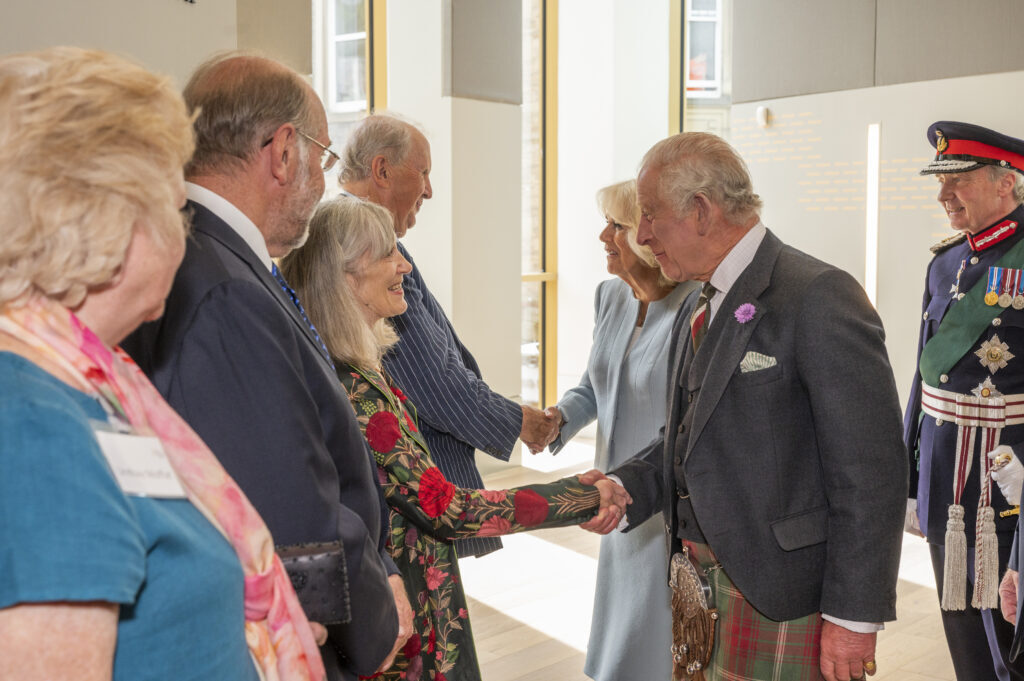 Date Published: 27th July 2023
On 6 July 2023, His Majesty King Charles III and Her Majesty Queen Camilla toured The Great Tapestry of Scotland in its purpose built gallery in Galashiels. They were introduced to Alexander McCall Smith, Alistair Moffat and artist Andrew Crummy who all worked on the project along with Jan Rutherford, project director for the initial stages (fundraising, creation and touring) of the Tapestry project.. A copy of the Birlinn book, The Great Tapestry of Scotland was presented to the royal couple who were keen to talk not only about the Tapestry but about Alexander's books too.
The story of a royal visit…
The Great Tapestry of Scotland, where the people's story of Scotland begins, has a new royal story to tell after Their Majesties The King and Queen visited the centre in the Scottish Borders today (6 July 2023). During the royal engagement, The Queen added the final stitch to a new panel commemorating the historic occasion.
Their Majesties' visit to view one of the world's largest community arts projects in the town of Galashiels, coincided with the 10th anniversary of the Great Tapestry of Scotland's unveiling. The new panel is the first royal story to be added to the Tapestry since that time.
The centre was later opened for free to the public to give everyone an opportunity to be among the first to see the new specially designed Tapestry pane.
The King and Queen were welcomed by Mike Gray as Chair of the Tapestry Advisory Board and Centre Director Sandy Maxwell-Forbes, who introduced them to some of the thousand stitchers and wider team responsible for the creation of the Tapestry, including Alexander McCall Smith who conceived the idea, artist Andrew Crummy (who was presented with an MBE yesterday), stitcher coordinator Dorie Wilkie, fundraiser and tour manager Jan Rutherford and historian Alistair Moffat, alongside representatives for architects Page/Park who designed the centre's award-winning building.
Speaking after the visit, Sandy Maxwell Forbes said: "It was the greatest honour to introduce The King and Queen to individuals who were instrumental in creating this compelling account of Scotland's history, heritage and culture and one of the nation's top-rated visitor experiences right here in Galashiels in the Scottish Borders. This marks a significant moment in the Tapestry's extraordinary success story.
"Their Majesties appeared to be moved by the Tapestry's compelling artwork. Indeed, The Queen described it as 'Absolutely Wonderful', she said she wished she had more time to take it all in. In keeping with the Tapestry's original ethos of allowing people to tell their own story in their own way, we were also thrilled that The King and Queen signed our commemorative certificate and Her Majesty added a stitch to our new panel.
"We specially designed the panel to reflect the significance of this royal visit and The Queen's own appreciation of embroidery, which was so evident in her stunning Couture Coronation gown, hand embroidered by the Royal School of Needlework. In keeping with the design of the dress and indeed The Great Tapestry of Scotland, there are some beautiful intricate hidden details stitched into the new panel which reflected The King and Queen's greatest interests in life including nature, wildflowers, The King's own book, The Old Man Lochnagar and The Queen's Jack Russells Bess and Bluebell."
Alexander McCall Smith added: "It is now ten full years since the completion of The Great Tapestry of Scotland. All who have been involved throughout this period are grateful to His Majesty The King and Her Majesty The Queen, for their visit to see for themselves this remarkable artwork in its new home in Galashiels – in a striking, award-winning gallery that does full justice to the artistry that it houses. When we started this project we had no idea that the result would be so lovely and so affecting, or that so many people would be brought together in friendship. I'm particularly delighted that the many hands that worked together to realise this vision have been recognised by Their Majesties today."