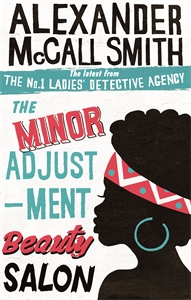 Date Published: 27th February 2014
The latest novel in the No.1 Ladies' Detective Agency series is out in paperback today! The Minor Adjustment Beauty Salon is Mma Ramotswe's fourteenth wonderful adventure, in which seismic upheaval is taking place at the No. 1 Ladies' Detective Agency. Not only is Mr J. L. B. Matekoni attempting to reform himself into a modern husband, but after her marriage to Phuti Radiphuti, Mma Ramotswe's challenging but irreplaceable associate Mma Makutsi has joyful news.
And look out for a new novel in the series this autumn, called 'The Handsome Man's De Luxe Café'.