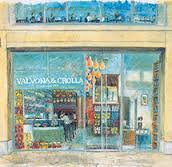 Date Published: 12th December 2016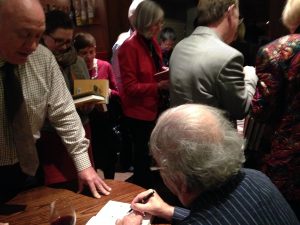 Alexander McCall Smith delighted readers with an entertaining after dinner conversation with writer, historian and expert on all things Tuscany, Alistair Moffat, at Valvona & Crolla's VinCaffe in Edinburgh. The meal featured dishes inspired by food mentioned in Alexander's Scotland Street books: 'Unbearably light scones' with Dunbar smoked salmon; 'Tuscan black Pecorino' with V&
C honey; and olives 'the size of small ping pong balls' to start. Big Lou's antipasto was followed by Vialone Nano 'risotto with porcini mushrooms', Parmigiana Reggiani and 'Poggio Lamentano' extra virgin olive oil. Roast quail followed wrapped in pancetta, stuffed with potato, herbs and black olives served with Italian sautéed greens and then Festive V&C Panettone served with cream pasticcera. The meal was washed down of course with 'Brunello de Montalcino' (A BRUNELLO CUPIO 2010 PININO) and was finished with Scotland Street coffee served with Pantone di Siena. Bertie would have been in his element. The readers certainly were. 
Alexander and Alistair talked about Alexander's stand alone novel, 'My Italian Bulldozer', the latest in the Scotland Street series, 'The Bertie Project', and the latest in The No.1 Ladies' Detective Agency series, 'Precious & Grace'.
We are all hoping that this becomes a regular feature on the Valvona & Crolla festive calendar of events in years to come.
(You may recognise the name Valvona & Crolla. It creeps up regularly in the Scotland Street novels. Bertie had his memorable conversation with Tam Dalyell in the cafe there – about the midlothian question. Valvona & Crolla is Scotland's oldest Delicatessen and Wine Merchant, founded in 1934 and is an Aladdin's cave of Italian delights.)