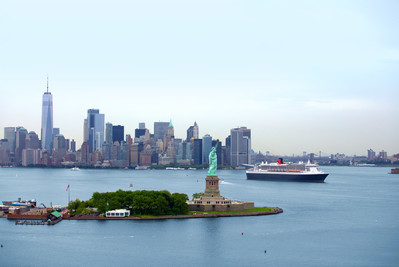 Date Published: 23rd January 2020
Cunard's Literature Festival at Sea is a seven-night Transatlantic Crossing, which departs out of Southampton on December 1 and arrives in New York on December 8, 2020. The event, curated by the programming team at Cheltenham Literature Festival, will bring together some of the most renowned names in the literary world.
The voyage will be headlined by award-winning authors Ian Rankin, Alexander McCall Smith and Prue Leith, who will host talks, workshops and Q&As on board. Guests will be able to listen to some of literature's greatest writers in conversation about their life and work and get the chance to meet them at intimate author signings.
Alexander McCall Smith said, "On the great liners of the past, people had time to read books and talk about them. What a magnificent thing it is that Cunard has decided to recreate this. I look forward immensely to meeting readers, talking about books, and watching the broad Atlantic go by."
In addition, they will be joined by Kate Mosse OBE, Joanne Harris, Simon Armitage, Pam Ayers and Alan Johnson, among others. Columnists from The Times will be onboard to analyze the latest headlines and the biggest news stories of the year. There will be a program of workshops and master classes for budding writers; literary editors and critics pick their best books of the year; and onboard bibliotherapists will be available to create hand-crafted reading lists for guests.
For more information about Cunard or to book a voyage, visit Cunard.com. For travel advisors interested in further information, please contact your Business Development Manager, visit OneSource or call Cunard toll free at 1-800-528-6273.