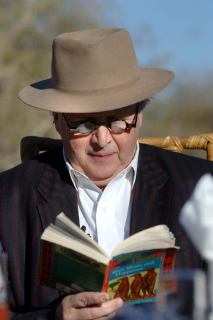 Venue:
Al Baraha 1, InterContinental
PLEASE NOTE THAT THIS EVENT will now take place at 8.00pm on Saturday 3rd March.
This change is due to heavy snowfalls in Edinburgh which have delayed Alexander's departure. Sadly, much of the UK has ground to a halt over the last few days as sub-zero temperatures and blizzards have hit the country. Alexander sends his sincere apologies from Glasgow Airport.
Join us at Emirates Airline Festival of Literature for an hour of mischief, laughter and master storytelling with one of the world's most prolific and best-loved writers, Alexander McCall Smith. Author of more than 100 books including the internationally bestselling No 1 Ladies Detective Agency, 44 Scotland Street and Corduroy Mansions series, McCall Smith was recently awarded the prestigious Medal of Honor for Achievement in Literature by The National Arts Club of America.
Alexander will be in conversation with Paul Blezard.
A masterclass with Alexander McCall Smith also features in the Emirates Festival Programme. See separate entry for further details. The Emirates Festival runs from 1–10 March 2018.
The Emirates Airline Festival of Literature is the Arab World's largest celebration of the written and spoken word. Launched in 2009 with 65 authors, the Festival has grown continually and, in 2017, hosted over 185 authors from 37 countries to entertain and educate 44,000 visitors.
The Festival places home-grown talent centre-stage and offers local fans the chance to interact with world famous authors, attend literary debates and workshops and participate in competitions. The Festival's education outreach programme gives students the chance to meet their literary heroes.
The 2018 Festival will be held from March 1-10, 2018 at the InterContinental Hotel, Dubai Festival City under the patronage of His Highness Sheikh Mohammed bin Rashid Al Maktoum, UAE Vice-President & Prime Minister and Ruler of Dubai, and in partnership with Emirates Airline and the Dubai Culture & Arts Authority (Dubai Culture), the Emirate's dedicated authority for culture, arts, and heritage.
The Festival is organised by the Emirates Literature Foundation, which was established by Royal Decree in 2013. Please note that the Alexander McCall Smith website has no responsibility for content or delivery.