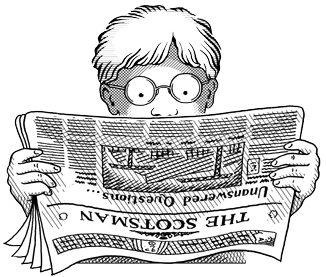 Date Published: 29th February 2016
The Scotsman newspaper is delighted to welcome the characters of Scotland Street back onto the pages of the paper for the next three months. Alexander McCall Smith is writing an episode a day of the serial to appear in the paper before being published in book format in the UK in August of this year as, The Bertie Project.
This is the eleventh year in which Bertie, Bruce, Big Lou and all the characters of this now world famous street have graced the pages of the Scotsman, making this the longest running newspaper serial in the world.
The first book in the series, 44 Scotland Street, was named one of Scotland's top 10 books of the last 50 years in 2013, alongside Alasdair Gray's Lanark, Trainspotting by Irvine Welsh, William McIlvanney's Docherty and Morvern Callar by Alan Warner.