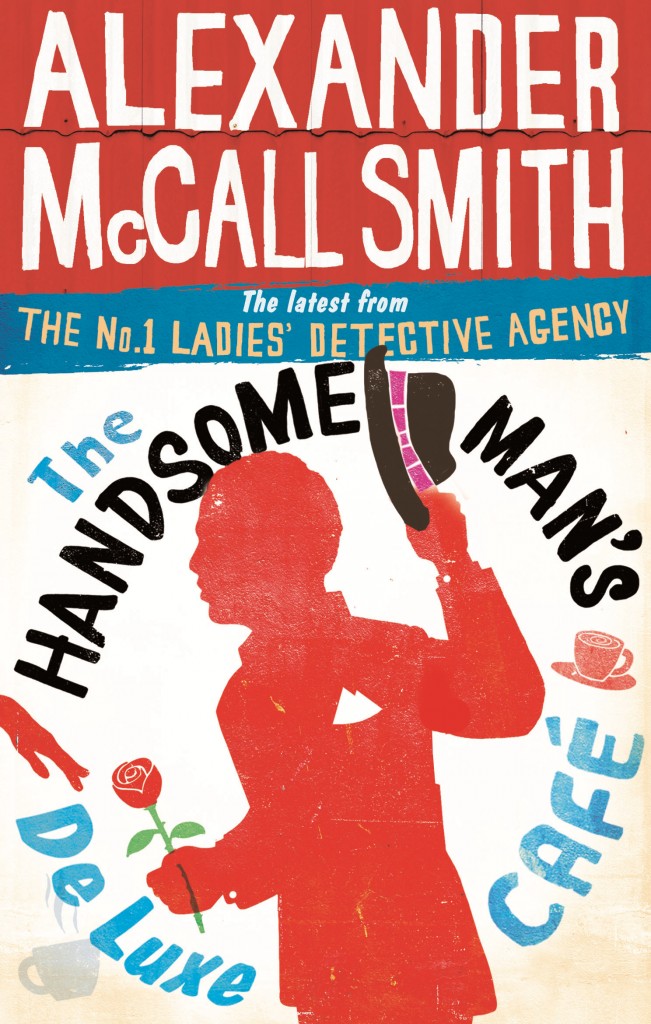 Date Published: 17th September 2014
The latest novel in Alexander McCall Smith's wonderful No.1 Ladies' Detective Agency series is published tomorrow!
In Mma Ramotswe's fifteenth adventure, Grace Makutsi launches a new enterprise of her own: The Handsome Man's De Luxe Café. She is an ambitious lady with a business plan, but who could predict temperamental chefs, drunken waiters and more? Luckily, help is at hand, from the only person in Gaborone more gently determined than Mma Makutsi . . .
As a special treat, here's an exclusive extract from The Handsome Man's Deluxe Café, in which Mr J. L. B. Matekoni reflects on Mma Ramotswe's uncanny sense of intuition:
As he returned to his porridge, Mr J. L. B. Matekoni reflected on how there had been so many instances in which Mma Ramotswe had shown a quite uncanny ability to notice things that he himself had simply missed, or to know things about others that most people – most ordinary people, or men, to be specific – would not be expected to know. He remembered how, while out shopping with her a few weeks earlier, she had whispered to him that a woman walking towards them was probably one of Mma Potokwani's cousins. He had cast an eye discreetly over the woman and wondered whether he had ever met her in the company of Mma Potokwani, but decided that he
had not. How, then, could Mma Ramotswe tell?

'She was carrying one of those bags that the orphans make in Mma Potokani's craft workshop,' said Mma Ramotswe. 'That's the first thing I noticed. Then I saw the shoes that she was wearing. They were very unusual shoes, and I had seen them before – when they belonged to Mma Potokwani. She must have passed them on.'

He had dismissed this as fanciful, but several days later, when he had gone out to the Orphan Farm to attend to one of the vans, on a pro bono basis of course, he had remembered the incident and asked Mma Potokwani whether she had any cousins visiting her. She did. And had she passed on an unusual pair of shoes to this cousin? 'As it happens,' said Mma Potokwani, 'I did. But let's not waste time talking about these small things, Rra. Now there is something wrong with the spare van too, and I was hoping that you would have the time to look at that one as well.'

He had sighed. 'I am always happy to help you, Mma Potokwani,' he said. 'But there are places called garages, you know, and they are there to fix vehicles. That is their job. Perhaps you might try in future to—'

Mma Potokwani did not let him finish. 'Oh, I know all about garages,' she said lightly. 'But I would never go to one of them – your own garage excluded, of course, Rra. Ow, those garages are expensive! You drive onto their forecourt and straight away that's two hundred pula. You get out of the car – that's another fifty pula. They say, "Good morning, Mma, and what can we do for you?" That costs seventy-five pula to say, and so it goes on. No, Rra, I will not go near those places; not me.'

Now, as he finished the last of his porridge, Mr J. L. B. Matekoni reminded himself that the one thing he felt certain about when it came to women was that you could never be sure. If Mma Ramotswe said she had a feeling about something, then it was perfectly possible that her instinct was correct. So rather than say, 'We shall see, Mma,' he muttered, 'Well, you're probably right, Mma.' And then he added, very much as an afterthought – and a hesitant afterthought at that – 'Who knows, Mma, what will happen? Who knows?'