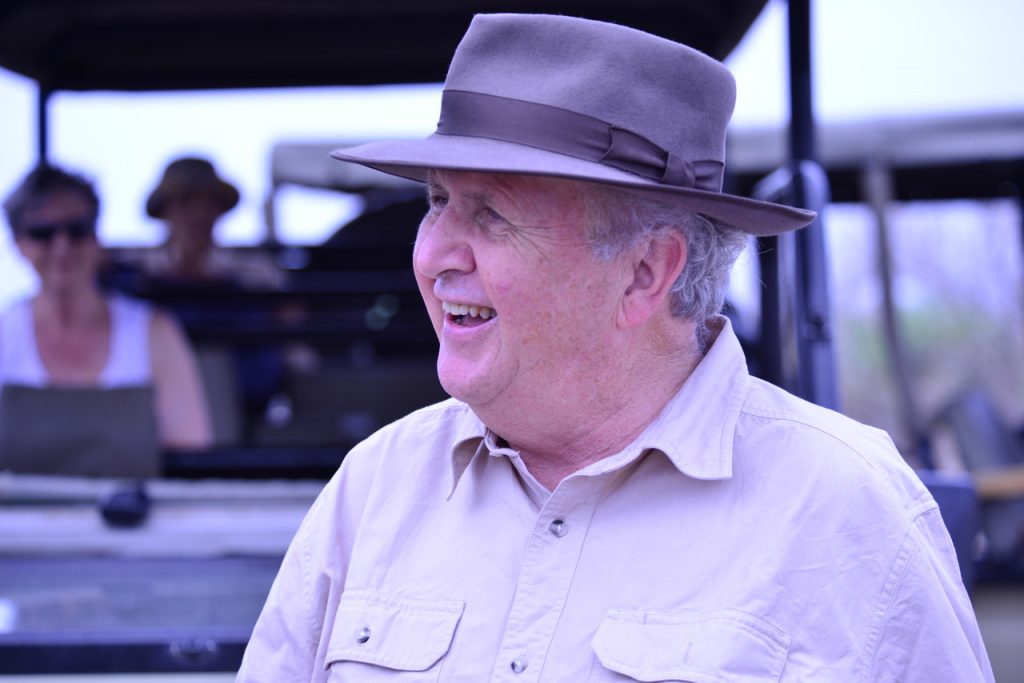 Date Published: 19th December 2016
Belmond Safaris are once again offering an exclusive experience, a 6 night stay at the Belmond Botswana Lodges, Africa with Alexander McCall Smith.
They are offering guests the chance to share in his memories and personal experiences of his beloved Botswana, as he regales tails around the fire and over sundowner drinks while enjoying a wide variety of wildlife experiences.
Botswana is one of the world's last great unspoilt wildernesses, with parched sands, lush savannah, and teeming with wildlife. In its midst, the mighty Okavango River flows into the sands of the Kalahari Desert to form the Okavango Delta, a haven for flora and fauna of every kind.
Dates for your diary
The travel dates are 20 – 26 September 2017 and if you book and confirm before 31 January 2017, Belmond Safaris will extend a 5% early bird discount to your booking. Do not miss out on this saving!
The cost for this spectacular journey with Alexander McCall Smith will be US $9, 325.00 per person sharing and US $12, 775.00 per single person.
Provisional itinerary:
Wednesday 20 September 2017,  Flights: Maun Airport to Belmond Savute Elephant Lodge
Accommodation at Belmond Savute Elephant Lodge in a Luxury Room on a Fully Inclusive basis for 3 nights.
Botswana's Chobe National Park is a dynamic wilderness. A sweeping expanse of savannah is dotted by rocky outcrops surrounding a marsh and the Savute Channel. Unpredictable wet and dry cycles shape the landscape and wildlife. The Savute Channel flows freely again after nearly 30 years of lying dormant, one of Northern Botswana's greatest mysteries.
Belmond Savute Elephant Lodge hosts a cluster of twelve room residences raised on wooden platforms. Each has an outdoor lounge and is shaded by a traditional thatch roof. The large, private decks are furnished with easy chairs and a hammock. These are ideal for viewing wildlife, or for enjoying a private dinner in complete privacy.
Perched on the banks of the Savute Channel, with an elevated view of the river, Belmond Savute Elephant Lodge is a spectacular base from which to explore the area. Savute is also unrivaled for its sightings of excellent predator / prey interaction and is a 'must stay' on any Southern Africa safari.
Not to be missed is the Zebra Migration during the months of February and October, when the nutritious grasses of the Savute Marsh attract large herds of zebra. Savute is also home to some very rare rock paintings by Bushmen who once inhabited the region, and its little forests of ancient Baobabs.
After viewing these paintings, continue to the amazing baobab grove—a cathedral-like cluster of 13 giant trees that rival the Bushmen's paintings in age. Stand among these towering columns at sunset, as the evening light bathes them in a russet glow and drinks are handed round—and wonder at this ancient land.
Saturday 23 September 2017: Flights: Belmond Savute Elephant Lodge to Belmond Eagle Island Lodge
Accommodation at Belmond Eagle Island Lodge in a Luxury Room on a Fully Inclusive basis for 3 nights.
Belmond Eagle Island Lodge has reopened as the ultimate Okavango Delta water- & experience-focused safari lodge, unveiling a sleek new look after an almost total rebuild.
The lodge is decorated to reflect an explorer's base. Design highlights in the twelve spacious deluxe tented rooms include oversized beds with views of the delta, large outdoor decks with a vista, private plunge pools, indoor & outdoor showers, a reading nook and walk-in wardrobes.
Fully rebuilt public areas include a stylish dining area with a pizza oven, a lounge area with an artisan-style bar, a library, a campfire area and the Fish Eagle Bar which is located directly on the water. Local artisans and materials were used throughout the renovations.
The lodge offers a variety of water-focused safari activities including motorboat safaris, barge cruises, mekoro safaris (a local canoe), fishing, as well as walking safaris and the ultimate air safari experience by helicopter.
Included in your stay is a spectacular and mind-blowing game-viewing helicopter flight, the images and impressions which will probably stay with you for a very long time. The open sides of the helicopter will allow you to take the most fantastic photographs, to capture this experience forever.
Book now
Book and confirm before 31 January 2017, to qualify for 5% early bird discount to your booking. CLICK HERE FOR MORE INFORMATION
PLEASE NOTE THAT THIS SAFARI IS OFFERED BY BELMOND SAFARIS. THE 'ALEXANDER MCCALL SMITH WEB TEAM' CAN TAKE NO RESPONSIBLITY FOR THE HOLIDAY OFFERED OR THE QUALITY OF INFORMATION CONTAINED IN THIS POST. PLEASE CONTACT BELMOND FOR MORE INFORMATION.