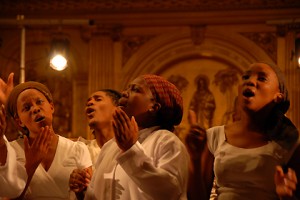 Date Published: 1st February 2011
The Sedibeng Choral Society from Gaberone,  Botswana journeyed to London in October last year as part of their first trip outside of Southern Africa. The trip came about as a result of a BBC Producer visiting  Botswana with Alexander McCall Smith.
The 30 choristers inspired community choir Hackney Singers and the 600 strong audience in a dazzling joint performance in Hackney in October 2010.  They opened the musical extravaganza with a choreographed performance entitled 'Made in Botswana', featuring beautifully-sung traditional African music, dancing and drumming, injected with a unique sense of humour and fun that brought a bit of Botswana to Hackney.
The concert  ended with a joint performance of  traditional Botswana song  "Marabelle", conducted by Andy Batshogile, Sedibeng Director.
The Sedibeng group have teamed up for a second time with Alexander McCall Smith's Little Opera House and will be performing their second opera there in 2010.