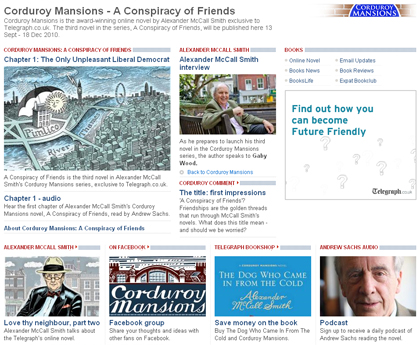 Date Published: 13th September 2010
The audio serialisation of A Conspiracy of Friends – the third instalment in Alexander McCall Smith's Corduroy Mansions series – begins today, over atwww.telegraph.co.uk.
Featuring a host of favourite characters (William French, Freddie de la Hay, Oedipus Snark, Caroline Jarvis and many more) the audio episodes are once more read by Andrew Sachs and will run every Monday to Friday on theTelegraph website – with a print version on the website and in the newspaper as well – until 18th December.
Hachette Digital will then publish an abridged CD edition and unabridged download edition in May 2011, with a paperback to follow from Abacus in 2012.
The story begins with A Conspiracy of Friends Chapter 1: The Only Unpleasant Liberal Democrat…
You can also read an interview with Alexander McCall Smith conducted by The Telegraph's Gaby Wood.