Venue:
Town Hall Seattle event, 1119 8th Avenue, Seattle, WA 98101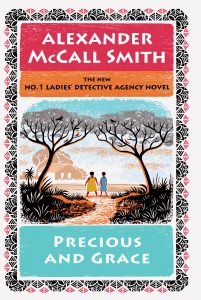 Born in what is now Zimbabwe and having spent much of his life in Africa, Scotland-based authorAlexander McCall Smith has written more than 100 books including academic titles, short story collections, and children's books. But he is best known for his internationally acclaimed No. 1 Ladies' Detective Agency series, which has topped bestseller lists throughout the world. The seventeenth installment of the series again finds Botswana's premier lady detective Precious Ramotswe searching for clues to solve a perplexing case. A review in The Wall Street Journal describes the series as: "One of the most entrancing literary treats of many a year. A tapestry of extraordinary nuance and richness." McCall Smith will read excerpts from and discuss Precious and Grace. He will also talk about why he is a self-described serial novelist and how he manages to keep each story exciting and new.
For tickets and information visit Town Hall Seattle's website.