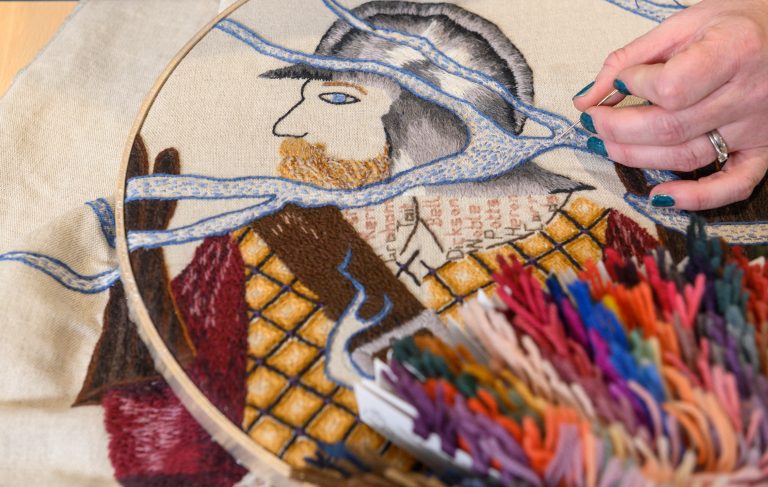 Date Published: 6th February 2020
Members of the public are being offered the chance to contribute a stitch to welcome panels to go on show at the new permanent home for the Great Tapestry of Scotland.
The seed of the idea for the Great Tapestry of Scotland came from Alexander McCall Smith. He shared his dream with historian Alistair Moffat and artist Andrew Crummy and, together with stitcher Dorie Wilkie and project director Jan Rutherford, they set about raising the money required and gathering more than 1000 volunteer stitchers to create the longest stitched tapestry in the world – one that tells a people's story of Scotland from ice age to present day.  It is made up of 160 panels and is more than 140m (450ft) long. It took more than 1,000 volunteer stitchers 50,000 hours + to complete.
Work on the Tapestry began back in 2011 and the first exhibition opened in 2013 at the Scottish Parliament building in Edinburgh. It was a truly joyful project and next year, in the Spring of 2021, a new purpose-built home for the Tapestry will open in the Scottish Borders. Building has begun!  The full run of panels will go on display at the new £6.7m visitor centre due to open in Galashiels in 2021.
And now, in this new phase of life for the Tapestry, you can add your own stitch. Events around the country will allow members of the public to work with textile artists to add a stitch or two to new panels to be displayed alongside the original work.
Centre director Sandy Maxwell-Forbes said they were "incredibly excited" to offer people the chance to take part. The project to create welcome panels is being taken on tour to a range of venues. Aberdeen, Glasgow and the Scottish Borders have already been confirmed. Floors Castle, Traquair and Abbotsford House in the Borders will also host the tour with full details to be announced later.
By the time the panels are complete, it is hoped that more than 1,000 people will have contributed to them – a similar number to those original stitchers who created this outstanding work of art.
The Great Tapestry of Scotland Welcome Panel Tour
Led by culture and leisure charity Live Borders, the Great Tapestry of Scotland Welcome Panel Tour will visit iconic and accessible venues throughout Scotland, including:
Marchmont House in Berwickshire – on 1 February 2020 – a stunning Palladian mansion built in 1750 by Hugh Hume-Campbell, 3rd Earl of Marchmont. Long thought to have been designed by William Adam, with major changes commissioned at a later date by eminent Scottish architect Sir Robert Lorimer. Winner of the Historic Houses/Sotheby's Restoration Award 2018.
VisitScotland Expo, Aberdeen on 1 and 2 April 2020 – Scotland's premier business to business travel trade event at P&J Live in Aberdeen on 1 and 2 April 2020.
Traquair House, Still Room on 9 and 10 May, 11am to 5pm – Scotland's oldest inhabited house, dating back to 1107 and lived in by the Stuart family since 1491. Originally a royal hunting lodge, Traquair played host to 27 Scottish Kings and Queens, including Mary Queen of Scots, and later as staunch Catholics the family supported the Jacobite cause.
Floors Castle on 2 and 3 May 2020, 10.30am to 5pm – Scotland's largest inhabited castle and family home of the Duke of Roxburghe, Floors Castle was designed by leading Edinburgh architect William Adam for the 1st Duke of Roxburghe in 1721. Floors is home to an outstanding collection of art, including the set of Brussels tapestries and the Gobelins tapestries.
Abbotsford on 30 May 2020, 10am to 5pm – Standing on the banks of the River Tweed near Galashiels, Abbotsford was the creation of the famous 19 th century Scottish novelist, poet and playwright Sir Walter Scott. It was built almost 200 years ago on the proceeds of his successful literary career. Abbotsford is an enduring monument to the tastes, talents and personal tragedies of its creator.
Scotland's Women's Institute Summer School at the Heriot Watt University Textiles campus in Galashiels from 20 to 24 July 2020 – bringing a broad mix of women together to connect, share, teach and meet.
The Associated Country Women of the World (ACWW) Conference in Glasgow from 12 to 16 October – The Associated Country Women of the World exists to amplify the voices of rural women, so that the problems they face and the solutions they raise are heard and acknowledged by international policy-makers and legislators
A variety venues and events supporting social inclusion in Scotland, including care homes (full details will be confirmed at a later date).