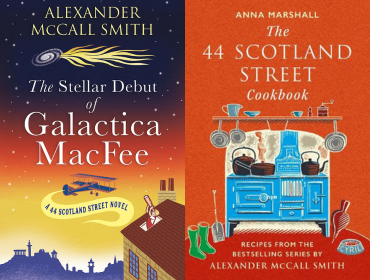 Venue:
The Maltings, Berwick-upon-Tweed
We welcome the return of Alexander McCall Smith, one of the world's most prolific and popular authors, whose The No. 1 Ladies' Detective Agency alone has sold 25 million copies in English and been translated into 46 languages. This year we will gain an insight into The Stellar Debut of Galactica McFee, the 17th volume of 44 Scotland Street (the world's longest-running serial novel) due in November 2023.
Anna Marshall has been part of Alexander's publicity team for 13 years and has a deep knowledge of the Scotland Street series and its characters. Anna's The 44 Scotland Street Cookbook gives fans the chance to eat like their favourite characters, enjoying Bertie's much-loved Panforte di Siena and Big Lou's 'off the record' bacon rolls.
Join Alexander and Anna as they discuss their writing and immerse yourself in New Town Edinburgh and the latest goings-on of its much-loved residents. Enjoy a memorable afternoon with a writer, as one reviewer said, 'whose optimism and grace give you hope for the world'. Presented in association with The Maltings.
Tickets and information here: https://berwickliteraryfestival.com/