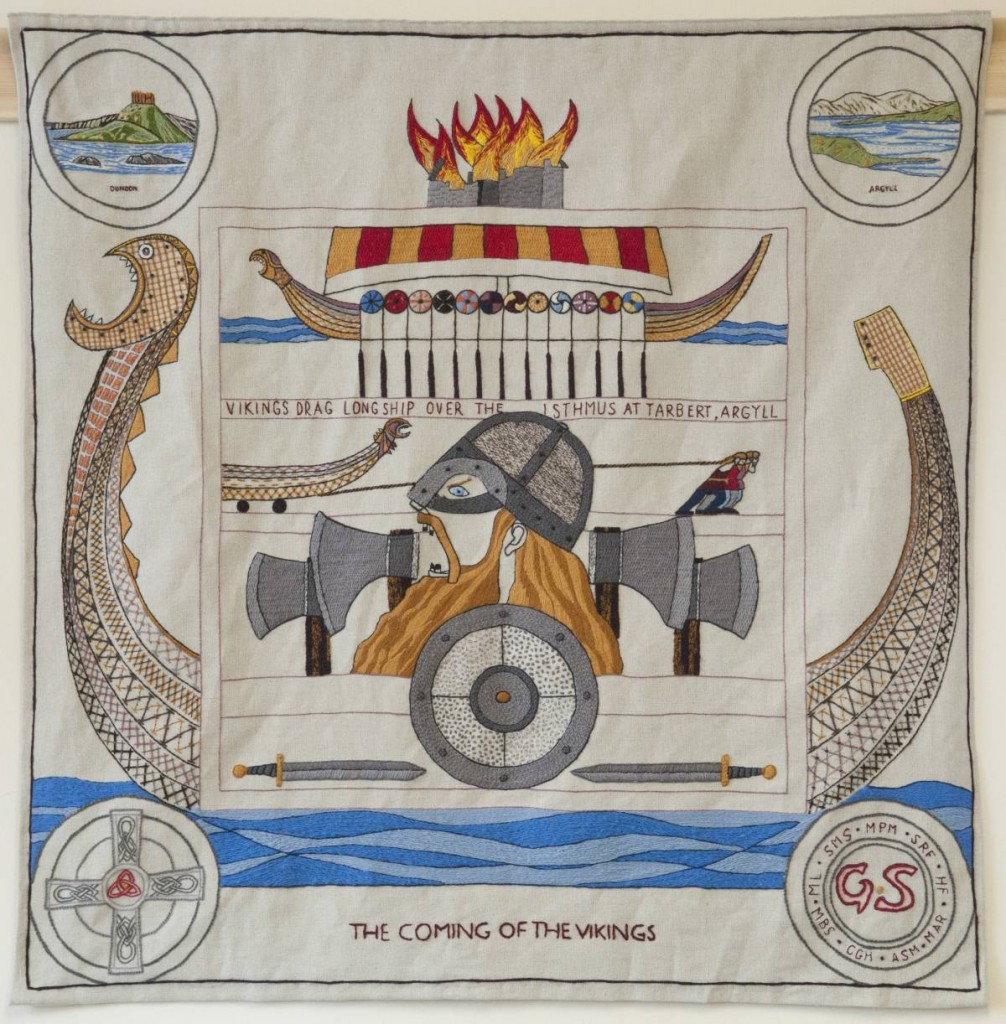 Date Published: 26th November 2020
Ten years to celebrate Scotland. Ten years to bring a dream to fruition. Ten years to reach the new starting point for something incredibly special…
This very week, ten years ago, Alexander McCall Smith attended the opening of an exhibition in the city's Dovecot Studios. The focus of the exhibition was the Prestonpans Tapestry, a hand-embroidered artwork which depicts the journey undertaken by a young Bonnie Prince Charlie, starting in France and ending in battle in Prestonpans.
I had no idea of the sheer impact it would have on me. As I walked past its panels, I became completely engaged in the story it was telling. I already knew that tale, but what impressed me was the effect of seeing it in tapestry form.  – ALEXANDER MCCALL SMITH
Alexander was much taken with the work. The underlying design and the stitching came together beautifully and the effect was simply stunning. But he was impressed too with the deceptively simple art-form as a story-telling platform and was introduced there and then to the artist behind the piece, Andrew Crummy. Back at home that same night he began to wonder… could such embroidered art tell a much bigger story? Should they try? Would it be possible to tell the history of a nation in this way – Scotland's story?
Andrew didn't take much persuasion. But they needed the historical narrative to be spot on. Alexander phoned historian Alistair Moffat. Immediately he responded with a resounding yes. These three men came together to storyboard a history that would go on to be transformed by more than 1000 stitchers from all areas of Scotland – led at all times by the talented and resourceful Dorie Wilkie – into the world's longest tapestry. It remains one of the biggest community arts project ever to take place in Scotland.
By early 2011, the Great Scottish Tapestry Charitable Trust had been set up with founding trustees James Naughtie, Alexander McCall Smith, Lesley Kerr, Alistair Moffat and Hugh Andrew. Andrew's artwork was traced onto panels of linen sourced from Peter Greig & Sons of Kirkcaldy, the last linen manufacturer in Scotland. And in September 2012, Tricia Marwick, MSP made the first stitch (she was also to make the last before the panels were exhibited for the first time). Panels were then allocated to groups of friends and strangers and dispatched in neatly packed parcels. Stitchers passed the panels between the members of their group, each taking their turn to do their allocated sections. Friendships grew and lasted, the panels travelled by hand, by car, by bus, by ferry and some very helpful posties!
I salute the visionary artist, Andrew Crummy, and his team of hundreds, led by Dorie Wilkie. I salute their magnificent artistry. I salute their generosity. I salute their good humour. This tapestry is their creation, made with a great deal of love for the people of Scotland and those who will come to Scotland to see it. – ALEXANDER MCCALL SMITH
The intent of the project was to create a series of over one hundred and fifty panels that told the key stories in Scottish history – everything from Duns Scotus to the formation of Rangers football club. Each panel focused on one specific historical chapter, and Andrew and Alistair worked together to interweave through each, tales of the time. These stories added new layers and today they reflect not only our shared history, but tell individual stories of place and family, often researched by the stitchers themselves. More than 400 of the stitchers gathered part way through in Edinburgh to share progress, seek advice and swap tips.
65,000 hours of stitching
Over 300 miles of wool (enough to lay the entire length of Scotland)
160 panels
420 million years of Scottish history
The finished design consisted of 160 panels, each measuring either 100 × 100 cm or 100 × 50 cm. Each of these panels was stretched and blocked, hemmed and backed by Dorie and her team and prepared for exhibition
As political statements like Bayeux or medieval draught excluders like most of them, tapestries have never gone out of style. These freeze-frames of history still fascinate. To make a tapestry for a nation, something attempted nowhere else, involved a glorious process of ruthless editing. Pitfalls open on every side. One of the deepest was the military option, our history as a series of invasions, wars and battles, many of them grey defeats. Another was to show Scotland and the generations of nameless people who made the landscape and built the towns and cities as a soft-focus background for colourful, stately aristocratic processions. While some pivotal set-pieces simply insisted on inclusion, such as Bannockburn and Culloden, other episodes of our hidden history rightly claimed a place; the great timber halls of prehistoric farmers at Balbridie, Claish and Kelso, James Small and his invention of the swingplough or John Watson Nicol's composition of An Ataireachd Ard. Most important have been our efforts to make a tapestry that distils Scotland's unique sense of herself, to tell a story only of this place, and without bombast, pomp or ceremony, to ask the heart-swelling rhetorical question; Wha's like us? – ALISTAIR MOFFAT
From first stitch, the project took over two years to complete and the finished tapestry first went on display in September 2013. From the start, Jan Rutherford and Anna Marshall worked behind the scenes to raise the funds required to complete and tour the tapestry. While the quite remarkable Dorie took charge of the stitchers and travelled the length of the country to hold workshops and inspect progress, supply materials and gather the finished panels, Jan and Anna brought in the money required to support the work and guided its exhibition diary across the country working with host venues and insurers, local councils and national funders, sponsors and supporters, the media (local, national and international) and merchandisers, designers, stand manufacturers and advertisers, security and pest control, and on one occasion – when a panel was stolen from an exhibition – the police. They installed the exhibitions and de-rigged, came up with ingenious security wiring, and stood by and counted the scones eaten in the cafes of each venue. They ran the online shop and website and dealt daily with enquiries from would-be stitchers and the many, many visitors. And they stitched! And, along with Alexander, Alistair, Andrew and Dorie they shed a tear as it was unveiled to its full length.
Schools and groups engaged with the Tapestry at every stop. Kristian Kerr worked to establish workshops and links with educators wherever it went and raised both funds and awareness for this area of the work. Storage was found for the periods when the work was not on the road, with each panel carefully checked and any damage repaired after every period of display – including freeze treatment to rid the fabric of moths.
Since 2013, it has been displayed in the Scottish Parliament twice – where folks queued round the block to get in every day for weeks, Cockenzie House, Cheltenham Town Hall, the townhall of Ayr, Anchor Mill in Paisley, Aberdeen Art Gallery, Stirling Castle, New Lanark twice, Dundee's Verdant Works twice, Inverness and the Isle of Lewis, Alloa and Kirkcaldy, promotional exhibitions and one off panel displays.
It has been the subject of discussion and analysis in the media from BBC Radio 4, BBC Breakfast, the popular One Show, regional radio and TV news programmes to the pages of the Scotsman, Herald, Times, Sunday Times, Daily Mail and most regional papers in Scotland. Magazine features flowed and the coverage extended to the other side of the world. And of course it is the subject of three books – a large book showing every panel and listing every stitcher, a short book telling the story behind the making, and a children's history based around the artwork of the Great Tapestry.
Ten years on and much thread has flowed. Spin-off tapestries are ongoing – the Midwifery Tapestry, a Cancer Tapestry, the Declaration of Arbroath Tapestry to name but a few. The search for a permanent home finally came to rest on the Scottish Borders and work then began with Council and Government, architects and trustees. As 2020 opened the foundations were being laid for the build of a new gallery for the Great Tapestry of Scotland in Galashiels. Ten years on and we are at a new starting point for an artwork that will outlive every one of us.
The new national gallery for The Great Tapestry of Scotland will open (Covid willing!) in the Summer of 2021.