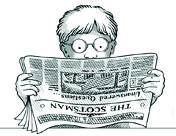 Date Published: 17th February 2017
A new series of '44 Scotland Street' will appear in The Scotsman newspaper in Scotland from Friday 24 February, 2017.
As soon as we hear that it is hitting the pages of that popular newspaper we know it won't be long until we have a new treat to enjoy in book form and all our favourite characters will be back.
Alexander McCall Smith writes the serial in daily instalments which are then published Monday-Friday in The Scotsman newspaper over a three month period every year. The episodes are then collected into a book format, published in hardback and eBook and in paperback the following year. This will be the 12th series running in the paper making this the longest running newspaper serial in the world!  The book—as yet without a title—will eventually be published in 15 countries across the world. What started as a fun idea for readers of The Scotsman—a plot hatched over lunch in Edinburgh with the literary editor and editor of the paper at the time—has grown into a global bestseller.
And not only do the characters of Scotland Street return to the pages of The Scotsman newspaper next week but to the airwaves as well. Listeners to BBC Radio 4 on iPlayer will hear a new series of Scotland Street plays written by Alexander and based on the books, broadcast every day of the week at 10.45am (UK-time). This is the fourth series of plays based around the books and produced and directed by David Ian Neville, to be broadcast on BBC Radio 4 and makes Alexander McCall Smith the only writer to have two returning serials broadcast
in any one year (this and his plays based on The No.1 Ladies' Detective Agency novels).
The child actor, Simon Kerr, plays the role of Bertie in the radio adaptations. Ten year old Simon is Edinburgh based and attends Stewart Melville—an ESMS  School. He has played Bertie over the last three seasons of radio plays and enjoys every minute: 'It's great fun playing Bertie on the radio and working with all the actors and the production team at the BBC.  When we first read through the scripts together we all have to try hard not to laugh out loud and we all say each time we'd love to do another one as the characters and stories are so good.'
The full cast for this year's series is as follows:
Domenica………………………..……CAROL ANN CRAWFORD
Angus/Dr Fairbairn………………………CRAWFORD LOGAN
Bertie….………………………………..……….……SIMON KERR
Irene…….……………………………………….…EMMA CURRIE
Stuart…………………………..…..…DAVID JACKSON YOUNG
Big Lou/Fiona…….………………………..…ANITA VETTESSE
Andy…………………………………….……….DANIEL AITKEN
Torquil Maclean……………………………….…JAMES BRYCE
Secretary/Charge D'Affaires…………….RICHARD CONLON
Produced and directed by  David Ian Neville