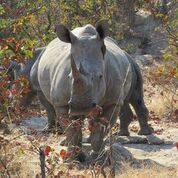 Date Published: 23rd January 2018
To mark the 20th anniversary of publication of  The No.1 Ladies' Detective Agency and to thank Alexander for increasing world-wide interest in Botswana, the charity Rhino Conservation Botswana are asking fans of the books to help choose a female rhino to carry the Precious Ramotswe name and to be an ambassador for the charity's work in conservation.
They have selected three of these wonderful creatures for fans to choose from. A picture and further information on each can be found on their website.
Which Rhino will get your vote?
You can add your vote on the site and they also give information on making donations to help with their important work.
Voting closes on 30 June 2018.
For further information on all of the important work that this organisation does in Botswana visit their main site.