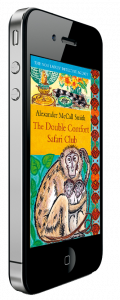 Date Published: 4th February 2011
We're excited to announce the release of the Alexander McCall Smith iPhone app, available to download now FREE for iPhone users.
The Alexander McCall Smith smartphone app is an innovative new platform designed to bring readers closer to their favourite author.
Launched alongside the new Botswana series paperback, The Double Comfort Safari Club, the app gives readers an immersive guide to the world of Mma Ramotswe and the places and characters made famous by the books.
The app features exclusive video interviews, bonus material, character portraits, location guides, chapter samples and much more!
It also includes a random quote generator – so you can receive a daily dose of Alexander McCall Smith's wit and wisdom to your phone!
It will be updated for each new book released in 2011, so look out for more exclusive content with the launch of The Saturday Big Tent Wedding Party in March and around new releases in the Scotland St, Corduroy Mansions and Sunday Philosophy Club series later this year.