Date Published: 15th March 2018
Australian response: Alexander would like to thank all of his readers who came out to meet him on his visit to Dubai for the Emirates Festival and his tour of Australia this month (March 2018), both of which he enjoyed very much indeed. He is very fond of the people of Australia and the land and climate — as you will in see if you take a few minutes to read a story he wrote about Australia which is on the story calendar on this website.
The events were a great success with audiences of up to 1500 people and those involved in the planning went to great lengths to welcome him.  He was even piped into the auditorium for his event in Maleny, in the Sunshine Coast Hinterland, north of Brisbane, Queensland, by a local bagpiper—much to his delight.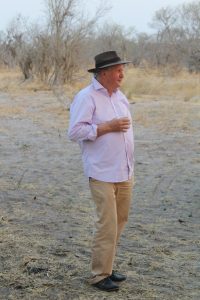 Alexander McCall Smith with a sundowner. Belmond Safari