Who Lives in Scotland Street?
BERTIE POLLOCK
Seven-year-old Bertie, surely the most-loved character in Scotland Street, is a universally popular child prodigy incapable of lying, but capable of so much else. Bertie is trapped in his mother's regime of yoga, Italian lessons, saxophone exams and the politics of a Steiner education. He is the unwilling subject of the 'Bertie Project'.
He longs to play rugby, watch the trains at Waverley station, make friends and be 18 so he can escape his mother. Instead, she and his psychotherapist, Dr Fairbairn—whom Bertie believes to be deranged and en route to Carstairs at any moment—scrutinise his every move.
OLIVE and TOFU
Bertie's school classmates. OLIVE hates Bertie's friend TOFU, and Bertie is not so keen on him either, although Tofu's suggestion that they should both join a paramilitary organisation (the Cub Scouts) was one suggestion that was very attractive to Bertie. Tofu is the son of two prominent Edinburgh vegans and Olive alerted Bertie to the perils of veganism when he revealed that Tofu's mother had died of hunger.
IRENE POLLOCK
Bertie's mother, IRENE is married to Scottish Office bureaucrat Stuart. A frightening example of New Town parenthood, Irene is keen on hot-housing her children. A disciple of Melanie Klein, she forces Bertie to sleep in a pink "space" and wear "crushed strawberry" coloured dungarees in an attempt to produce an un-gendered son. Recently she gave birth to another boy, Ulysses.
ANGUS LORDIE
Domenica's friend Angus is an accomplished portrait painter. He paints in his studio in Drummond Place, where he lives with his dog, CYRIL. Cyril, who is well-known for his gold tooth and tendency to wink at people, enjoyed a brief fling in Drummond Place Gardens, which resulted in six puppies being delivered to Angus.
RAMSEY DUMBARTON
Ramsey Dunbarton bores his wife, Betty, into somnolence while reading her his memoirs.
BRUCE ANDERSON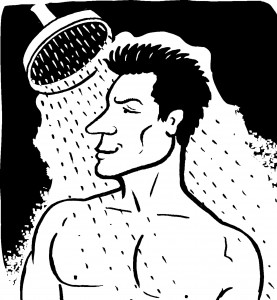 A surveyor and rugby fan, Bruce was, until very recently, a thorough-going narcissist (in fact, he was described at one point as "An echt, 84-horse-power narcissist of toe-curling proportions."). He finally saw the error of his ways. He used to live in 44 Scotland Street, but now no longer does.
BIG LOU
Big Lou, a sympathetic autodidact from Arbroath, is the owner of a coffee house opposite Matthew's gallery. Throughout the series, she observes the unfolding Edinburgh comedy from behind her coffee bar. She has had a run of bad luck with men. Her latest paramour is a passionate supporter of the Jacobite cause.

DOMENICA MACDONALD
Having been born in Scotland Street, DOMENICA MACDONALD is the senior resident of No 44. She is a freelance anthropologist whose last field trip was to study the pirates of the Malacca Straits. Witty, educated and wise, she lives above Irene and Stuart on the top landing.
MATTHEW
MATTHEW, the son of an affluent businessman and prominent Watsonian, owns an art gallery despite knowing little about art. He is now happily married after several disappointments in love.