Publisher:
PenguinRandomHouse
Publication Date:
14 February 2023
The Perfect Passion Company is a novel written in installments, published as three individual e-Book shorts in the first instance and then gathered into print publication in 2024. Available now as an instant purchase.
***
'Be careful… dates don't always work out'
***
In an antidote to online dating, Alexander has created the fictional world of The Perfect Passion Company, a matchmaking agency for those who prefer to turn their backs on the depressing agony of misleading photographs and the action of swipe left, swipe right. This is an agency that offers hope, a personal approach and more than a little fun!
Set in an attractive mews office in a quiet lane in the New Town of Edinburgh, the agency is about to change hands. Katie is destined to take over from her aunt. Fresh ideas will stir things up (with a little help from William who works next door) and bring interesting results.
Katie Donald's aunt Ness announces that she's heading to Canada for a late-in-life gap year, asking Katie to take over management of her matchmaking bureau in her absence. Katie, who is always ready for a new challenge, enthusiastically accepts the offer, taking charge of The Perfect Passion Dating Company at No. 24 Mouse Lane in Edinburgh's New Town. Although Katie has little in the way of direct experience, with the help of her amiable and handsome office neighbour William Kidd, she soon finds herself making matches for the lonely hearts tired of meeting online – and who want a more personal touch.
In Cook for Me, Katie's first client is a retired airline pilot named David who is looking to settle down. As Katie questions him about his previous relationships, it becomes clear David is keen on finding a partner who enjoys cooking – in particular, one who would enjoy cooking for him. Their first and most logical stop is a cooking school, thinking that this might be the perfect place to find a woman with a natural joy for cooking. Soon enough, an introduction is made that will undoubtedly lead to the fulfilment of David's desire . . . but not exactly in the way he was expecting. With an innate instinct for bringing people together, Katie learns quickly on the job, developing a skill for finding out what it is that people really want. Along the way, Katie learns profound lessons about her own desires as she works at better understanding others.
For fans of Alexander McCall Smith's many beloved series and romantic standalone novels, 'The Perfect Passion Company' series shows him at his most perceptive, playful, and generous. In the way that only McCall Smith can, these tales offer a glimpse inside the psychology of matchmaking, the search for love and companionship, and the mysterious spark of attraction that can, at times, catch hold of us all.
The Private Passion Company 1: Cook for Me (e-Book publication March 2023) – A Vintage Short
The Private Passion Company 2: A Labourer in the Vineyard of Love – A Vintage Short
The Private Passion Company 3: The Sound of Silence – A Vintage Short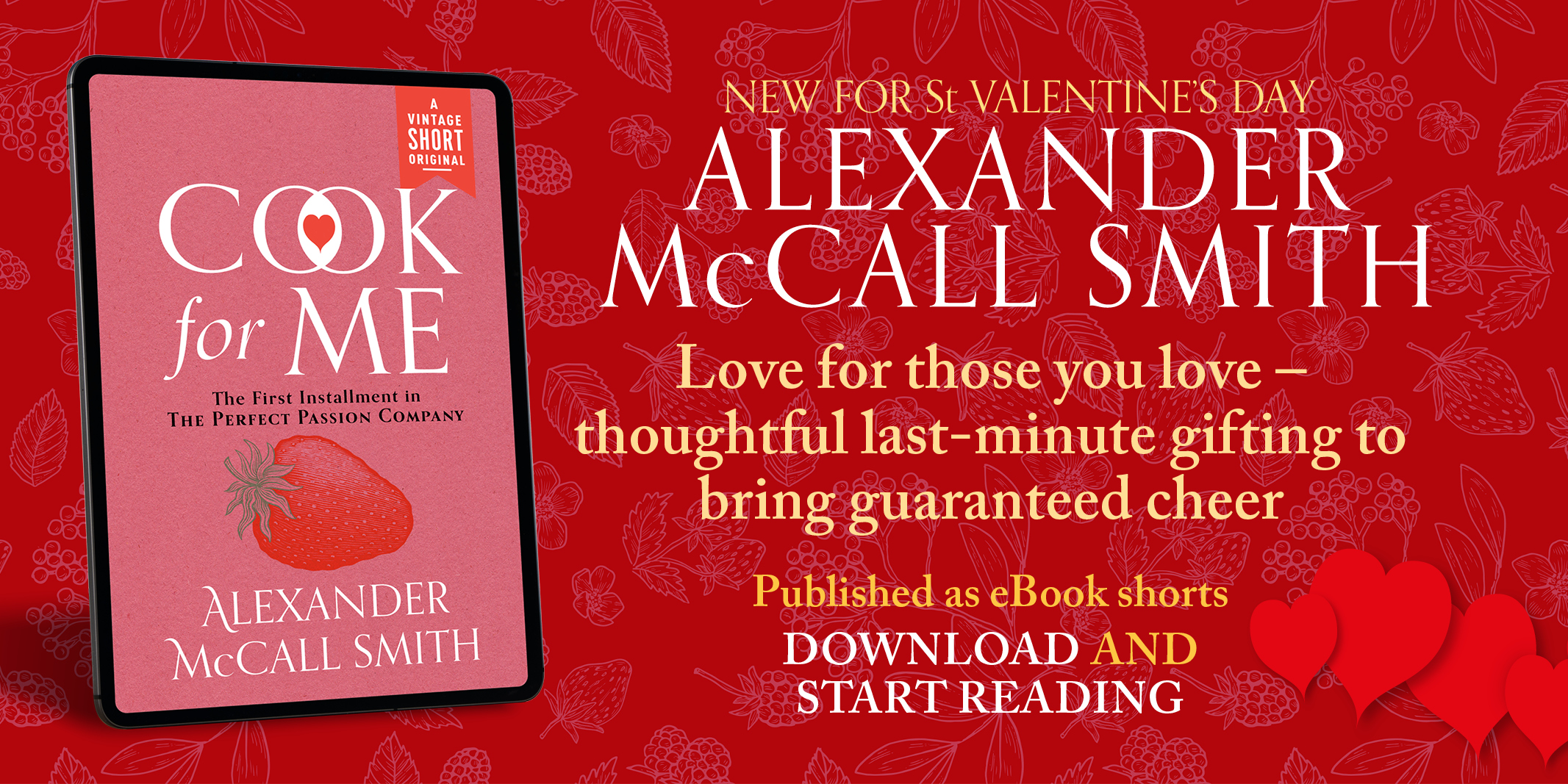 Reviews
'This might be my favorite offering from Alexander McCall-Smith, which is quite a compliment given he's my favorite author and I've read near,y all of his books! The character development is perfect and being a fly on the wall listening to their conversations is a treat. Highly recommended!'
Amazon verified review - FIVE STARS (USA)
'Our author does it again! Amusing delightful and above all true and kind. Can't wait for more! Highly recommended. Bravo!'
Amazon verified review - FIVE STARS (UK)
'A sympathetic story touching on areas of the human heart that we can all relate to. It is set in his native Edinburgh and has a little bit of the modern and old-fashioned within the story line to make for a fresh take on an age old dilemma; finding your true love'
Amazon verified review - FIVE STARS (Australia)
'In "Cook for Me," [Alexander] touches the vulnerability of intimacy, love, needs and wants, truth and the tales we sometimes tell ourselves instead of truth. He blends a character's past and present so believably, it's like being with an old friend… each one crafted with its own vocabulary of feelings, thoughts, beliefs… not just words…the author is whetting my appetite for what's yet to savor, devour, enjoy. I'll be coming back for the next course, to be sure! Loved it'
Amazon verified review - FIVE STARS (USA)
'Clever, funny and warm, a truly delightful read. Left me itching to know these two new characters better. Such insight into hunan nature. McCall Smith at his best, knows us better than we know ourselves'
Amazon verified review - FIVE STARS (UK)
'Let's hope that this book will be the harbinger of a whole new series, by the name of "The Perfect Passion Company." Very clever and personally touches the lives of any person of any age'
Amazon verified review - FIVE STARS (USA)